In my Goa tour, I have had the privilege of exploring some of the most picturesque beaches around the world. One such enchanting destination that left a lasting impression on me is Vagator Beach in Goa, India. Nestled in the northern part of Goa, Vagator Beach offers a unique blend of natural beauty, vibrant nightlife, and a serene ambience that is sure to captivate any visitor.
Table of Contents
Why is Vagator Beach Famous?
It has gained fame for its breathtaking beauty and tranquil atmosphere. With its pristine white sands, crystal-clear waters, and dramatic cliffs overlooking the Arabian Sea, this beach offers a picturesque setting that is perfect for relaxation and rejuvenation. The beach is also known for its distinctive red cliffs, which provide a stunning backdrop for memorable sunsets.
Vagator Beach Resort:
For those seeking a luxurious beach getaway, It offers a range of exquisite resorts. These resorts provide comfortable accommodations, world-class amenities, and stunning views of the beach. From beachfront villas to cozy cottages nestled amidst lush greenery, Vagator Beach resorts offer a serene escape from the hustle and bustle of everyday life.
Vagator Beach Nightlife:
It is renowned for its vibrant nightlife scene, attracting party enthusiasts from all over the world. The beach is dotted with numerous beach clubs, shacks, and open-air venues that come alive after sunset. Whether you prefer grooving to pulsating electronic beats or enjoying live music performances, This Beach offers a diverse range of nightlife options to suit every taste.
Vagator Beach Things to Do:
Apart from its natural beauty and lively nightlife, This beach offers a plethora of activities for visitors to enjoy. Adventurous souls can indulge in thrilling water sports such as jet skiing, parasailing, and banana boat rides. Exploring the nearby Chapora Fort, perched atop a hill, provides a panoramic view of the beach and surrounding areas. Additionally, yoga and meditation sessions on the beach offer a chance to find inner peace amidst the serene surroundings.
Is Vagator Beach in North Goa or South Goa?
Vagator Beach is located in North Goa, making it easily accessible from popular tourist destinations like Calangute and Baga. Its proximity to other renowned beaches in the region, such as Anjuna and Morjim, makes it an ideal base for exploring the wonders of North Goa. With its laid-back vibe and pristine beauty, This Beach serves as a refreshing contrast to the bustling beaches of South Goa.
Top 9 Kasol Hotels to Stay In Budget In All Season!

Exploring the Charms of Vagator Beach: A Hidden Gem in Goa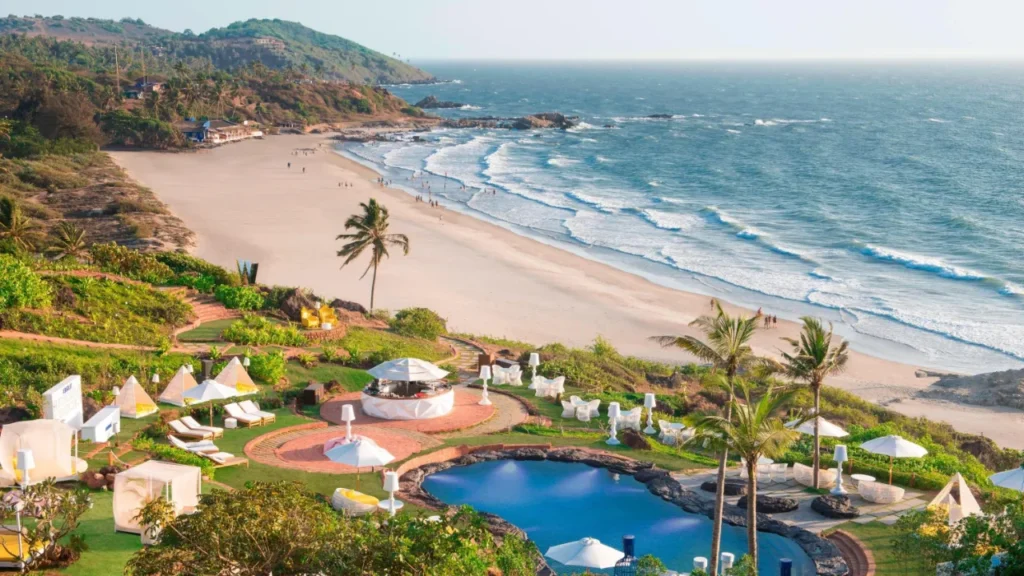 Conclusion:
I can definitely say that Vagator Beach in Goa truly offers a slice of paradise for beach lovers and adventure seekers alike. From its idyllic setting and luxurious resorts to its vibrant nightlife and exciting activities, This Beach has something to offer everyone. Whether you seek tranquility and relaxation or thrilling adventures and unforgettable parties, this hidden gem on the Goan coast is sure to leave you with cherished memories that will last a lifetime.