How to Open Zerodha Demat Account In Mobile? [Only 5 Min]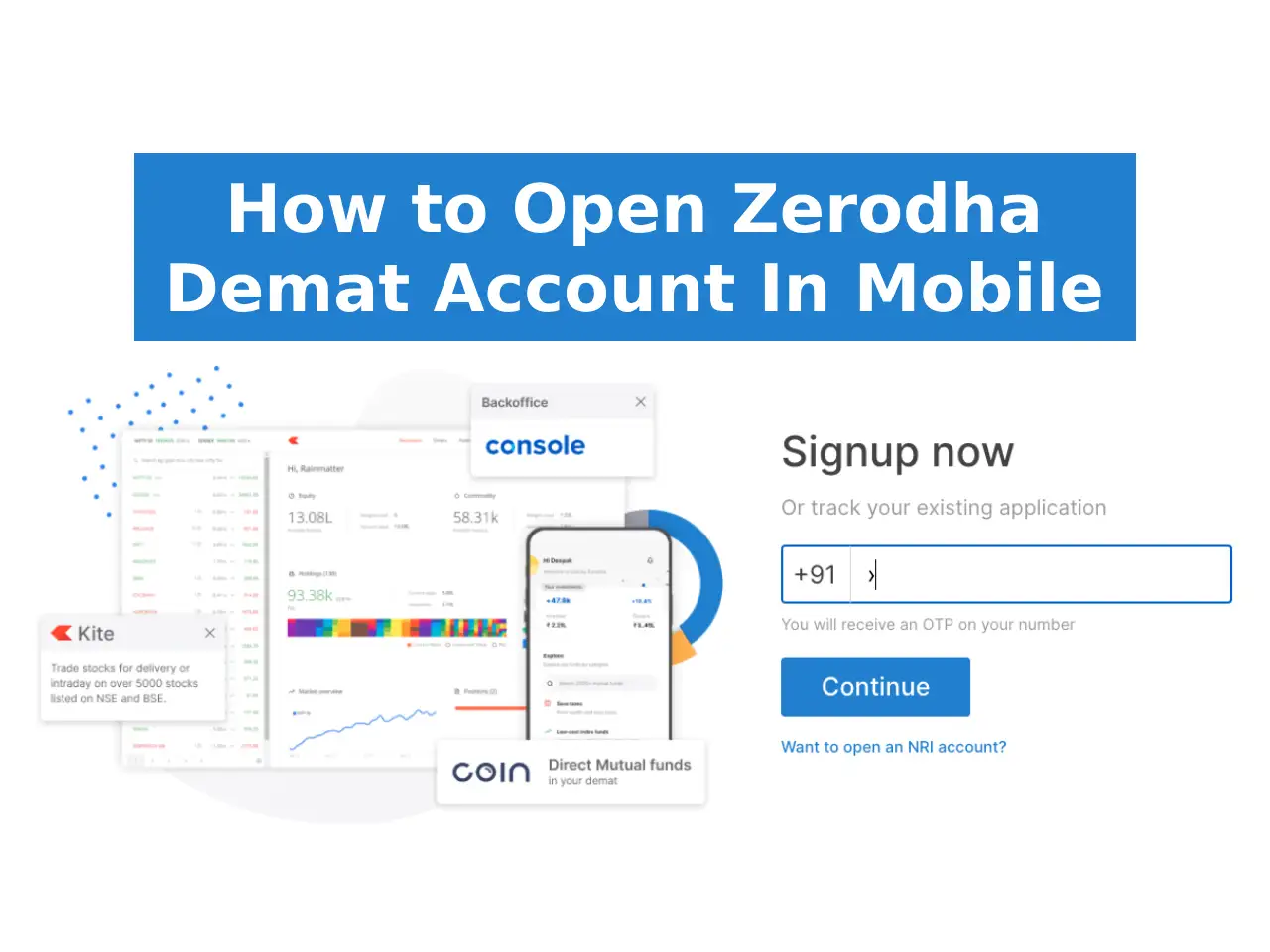 Your journey into the world of online trading begins seamlessly with knowing 'how to open zerodha demat account'.. Their online account opening process is designed to be effortless, ensuring you can dive into trading without any hassles. In this detailed post, you'll find the simple steps and necessary documents required to open your Zerodha account online. With thier user-friendly interface and quick verification, you can start trading within 72 hours.
Table of Contents

How to Open Zerodha Demat Account In Mobile:
Opening a Zerodha account online is a hassle-free experience, provided your mobile number is linked to your Aadhaar. Just visit signup.zerodha.com and follow the on-screen instructions. Complete the process with a quick e-signature.
Zerodha Account Opening Documents
For a smooth online account setup, gather these documents:
PAN Card: Self-attested with your signature.
Signature Scan: Use black or blue ink pen; markers or sketch pens are not allowed.
Aadhaar Card: Ensure it's masked; only the last four digits should be visible.
Linked Mobile Number: Ensure your Aadhaar is linked to your mobile number.
Bank Proof: Provide a personalized cancelled cheque, bank statement, or passbook copy displaying your account details.
Income Proof (for F&O trading): Options include bank statements, salary slips, ITR acknowledgement, Form 16, net worth certificate, or demat holdings statement.
| Documents for Income Proof (Any one) | Income Requirement |
| --- | --- |
| Bank Statement (Last 6 Months) | Average balance > ₹10,000 |
| Latest Salary Slip | Gross monthly income > ₹15,000 |
| ITR Acknowledgement (Annual) | Gross annual income > ₹1,20,000 |
| Form 16 (Annual) | Gross annual income > ₹1,20,000 |
| Certificate of Net Worth | Net worth > ₹10,00,000 |
| Demat Holdings Statement (Current Holdings) | Holdings value > ₹10,000 |
How to Open Demat Account in Zerodha Step by Step Video Guide
Watch zerodha account opening video tutorial to guide you through the process. Your Zerodha account will be operational within 72 working hours. After successful verification, an email containing your user ID will be sent to you.

Offline Account Opening Process
If your mobile number isn't linked to your Aadhaar, opt for the offline account opening method. Find details on 'How to open a Zerodha account offline?' to initiate the process.
How to Earn Money Online Without Investment In Mobile by Anyone!

Made 1 Crore at 27 Age by Electronic Engineer With 9 to 5 Job for 7 Years!
Zerodha Account Opening Charges and Brokerage
To avail the seamless online service, there's a nominal charge of ₹200 for opening an equity trading and demat account. This fee ensures swift processing, allowing you to dive into the world of online trading without delays. You can also check detailed infromation about fees and charges here and brokerage fees here.

With Zerodha, your path to online trading is simplified. Gather your documents, follow the steps, and in no time, you'll be trading seamlessly in the stock market.
Conslusion:
Congratulations! Because now you've successfully navigated the process of opening your Zerodha account online. Now, armed with the knowledge of required documents and the straightforward steps, you're all set to explore the dynamic world of stock trading. Whether you're a seasoned investor or a newcomer, our seamless account opening ensures you can focus on what truly matters – making informed investment decisions and growing your wealth. Start your trading journey with confidence, and let Zerodha be your trusted companion in the exciting realm of online trading. Happy trading!