To promote the culture of seeking invoices for any purchases, the government recently launched the "Mera Bill Mera Adhikar" invoice promotion scheme. The inauguration took place in Gurugram and was led by Haryana's Deputy Chief Minister, Dushyant Chautala, along with Union Revenue Secretary, Sanjay Malhotra. This initiative aims to encourage the generation of GST bills, benefiting all stakeholders within the ecosystem.
Table of Contents

Pilot Project Expansion
Initially launched in Haryana, Assam, Gujarat, and the Union Territories of Puducherry, Dadra and Nagar Haveli, and Daman and Diu as a pilot project, the scheme will gradually expand across the nation.
Mera Bill Mera Adhikar Scheme Details
Dushyant Chautala shared the specifics of the scheme, stating that a corpus of ₹30 crore annually has been allocated for the initiative. Every quarter, two consumers will be awarded ₹1 crore each, totaling eight ₹1 crore awards annually, distributed through a lottery. Additionally, every month, ten consumers will receive ₹1 lakh each, with 80 consumers receiving ₹10,000 each.
The primary objective of "Mera Bill, Mera Adhikar" is to enhance GST awareness among consumers. It aims to motivate consumers to demand bills, ensuring that these transactions become an integral part of the GST system. Since its launch in 2016, the GST taxation system has yielded impressive results. Tax collections have risen, and the tax structure has been simplified, reducing the average tax rate to approximately 12%, with prospects for further reduction.
Chautala highlighted that monthly GST collections have increased from ₹1 lakh crore in 2017 to ₹1.60 lakh crore at present.
8 Ways to Master Technical Analysis Book For Free Download!

Best Trading App in India To Earn Money for Beginners!
How to Participate in Mera Bill Mera Adhikar?
Under this program, all consumer invoices in the respective states and Union Territories are eligible to participate. To be eligible for the lucky draw, the minimum invoice value is ₹200. Consumers can upload their invoices through the mobile application "Mera Bill Mera Adhikar," available on iOS and Android, as well as the web portal "web.merabill.gst.gov.in."

The Role of Union Revenue Secretary
Sanjay Malhotra, the Union Revenue Secretary, who co-launched the scheme with Chautala, emphasized that the program's goal is to encourage consumers to request invoices for all their purchases. The scheme aims to transform public behavior, making it a right and entitlement for customers to demand bills from all vendors.
Malhotra explained that the pilot launch in three states and three Union Territories will provide valuable insights and outcomes that will inform the nationwide implementation of the scheme.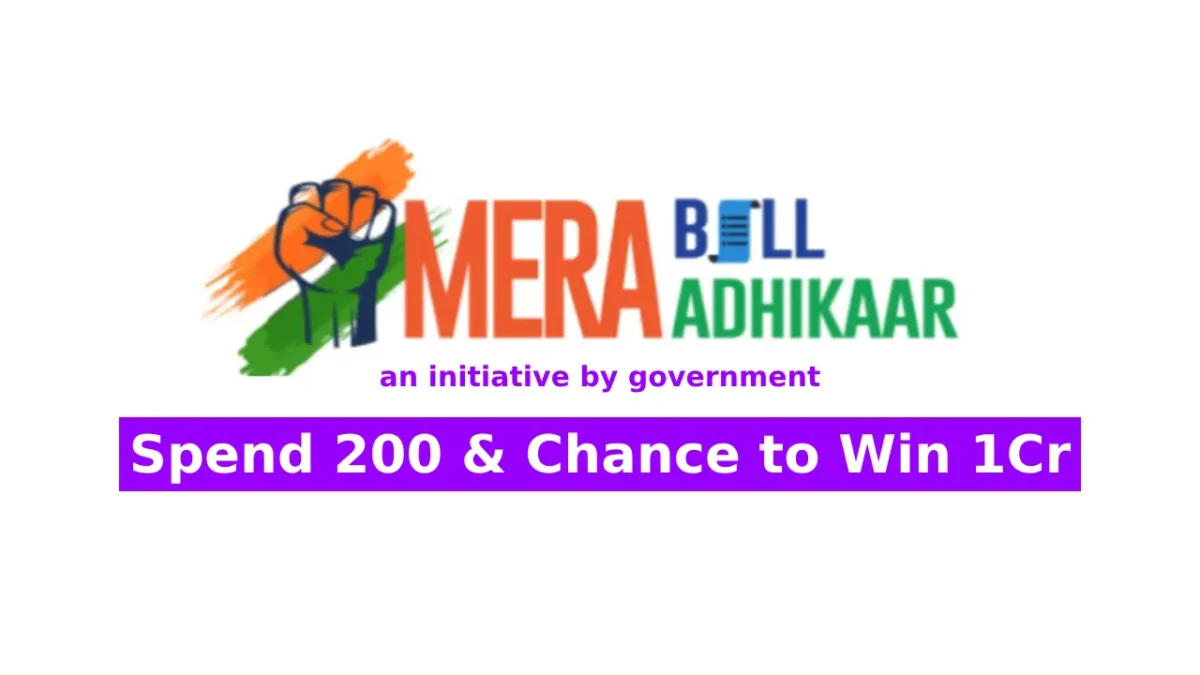 This scheme represents a significant step toward fostering a culture of accountability and transparency in financial transactions, ultimately benefiting both consumers and the nation's tax revenue.