We may not know that how Raksha Bandhan started actually, but it also known as Rakhi and it is an integral part of Indian culture and traditions. This auspicious occasion celebrates the unique bond of love and protection between siblings. I want to share history of this festival, the origins and significance of Raksha Bandhan which will add depth to this cherished festival.
Table of Contents
History of Raksha Bandhan
The history of Raksha Bandhan dates back to various legends and historical events. One of the earliest references comes from the Mahabharata, the ancient Indian epic. Draupadi, the wife of the Pandava brothers, tore a piece of her sari to bandage Lord Krishna's bleeding finger. Touched by her gesture, Krishna pledged to protect her. This act symbolizes the essence of Raksha Bandhan – the promise of safeguarding loved ones.
Famous Brothers and Sisters from Mythology
| Centuary | Famous Siblings |
| --- | --- |
| 33rd century | Krishna and Draupadi |
| 8th century | King Bali and Lakshmiji |
| 33rd century | Krishna and Subhadra |
| 6th centuary | Kansa and Devaki |
| 5th centuary | Ravana and Surpanakha |
Rituals and Traditions
Raksha Bandhan falls on the full moon day of the Hindu month of Shravana. On this day, sisters tie a sacred thread, or rakhi, around their brothers' wrists, symbolizing their love and prayers for their well-being. In return, brothers offer gifts and promise to protect their sisters from all adversities. The exchange of sweets and gifts further strengthens the familial bonds.
Live Darshan of 12 Jyotirlinga In Single Page!

10 Things You Must Do On Indian Independence Day Without Forget!
Regional Variations
While Raksha Bandhan is celebrated throughout India, different regions have their own unique customs. In some parts of the country, the rakhi is tied to trees and plants, signifying protection for nature. In Maharashtra, the festival of Narali Purnima coincides with Raksha Bandhan, celebrating the importance of the sea and fishermen's lives.
Evolution Over Time (How Raksha Bandhan Started)
Over the years, Raksha Bandhan has evolved beyond its traditional meanings. It is no longer limited to biological siblings but extends to friends, cousins, and even neighbors. This evolution showcases the inclusivity and diverse culture of India.
Modern Significance
In today's fast-paced world, where families are often scattered across the globe, Raksha Bandhan serves as a heartfelt reminder of the unbreakable bond between siblings. The festival transcends geographical distances and brings families together, even if it's through virtual celebrations.
Conclusion for How Raksha Bandhan Started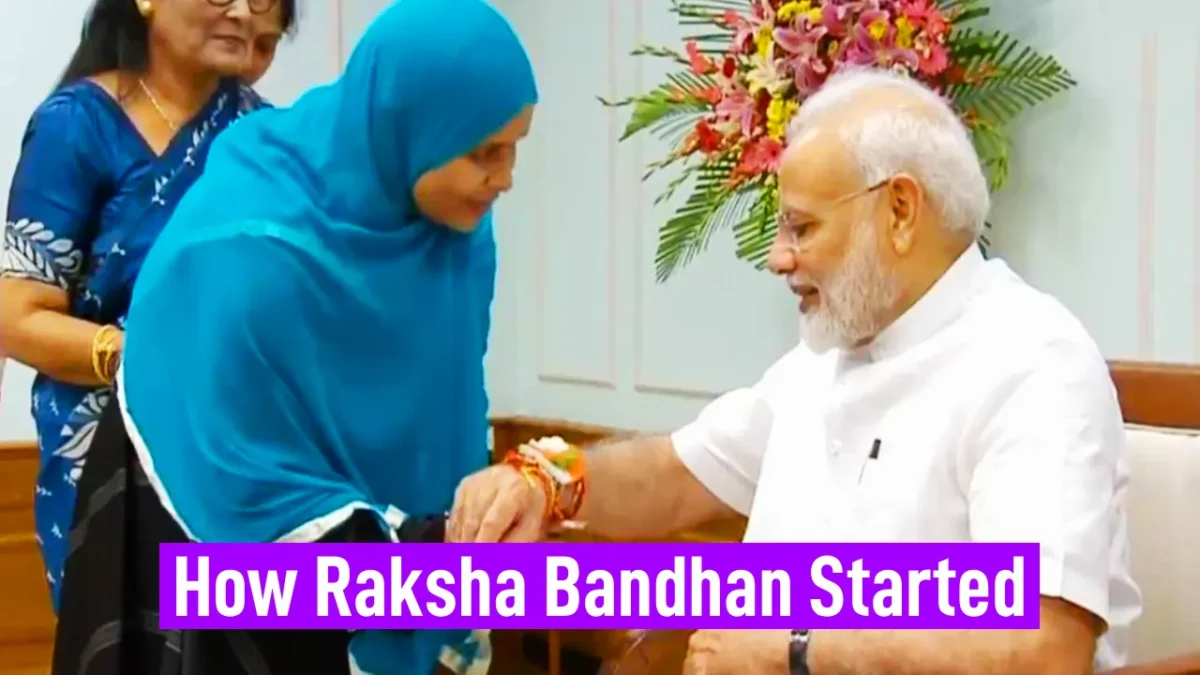 The story of Raksha Bandhan encapsulates the essence of unconditional love, protection, and unity among siblings. As the sacred thread is tied, it also weaves together the rich tapestry of Indian culture and heritage. Raksha Bandhan not only strengthens the sibling bond but also serves as a reminder of the values that are deeply rooted in Indian tradition. This cherished festival continues to bridge the gap between the past and the present, showcasing the timeless nature of love and togetherness.
FAQs:
What is the significance of Raksha Bandhan?
Raksha Bandhan celebrates the bond of love and protection between siblings, symbolized by the tying of a sacred thread called rakhi.
When is Raksha Bandhan celebrated?
Raksha Bandhan is observed on the full moon day of the Hindu month of Shravana, which usually falls in August.
Has Raksha Bandhan's meaning evolved over time?
Yes, Raksha Bandhan has evolved to include not only biological siblings but also friends and cousins, reflecting the changing dynamics of relationships in modern times.