Vignesh is an accomplished artist from Mayiladuthurai, who has created an impressive collection of over 25 paintings featuring popular actors Vijay, Ajith and Arya as well as the cast of the famous English series Money Heist. He has also created hundreds of 3D works of art using an unusual resource – sunlight.
After being on bed rest for 30 days due to an unforeseen health condition, Vignesh spent his time on Instagram exploring the art of burning incense wood. This inspired him to become an artist who quickly gained attention.
To create his artwork, Vignesh wears sunglasses, a hat and gloves and waits for the sun to appear every morning. He uses a magnifying glass to burnish the wooden surface at various angles and create portraits of Hollywood and Kollywood stars as well as popular politicians.
Vignesh recalls the most stressful phase of his life, during which he developed a medical condition that made it difficult for him to walk. While lying in bed, he watched a video by Michael Papadakis, a popular sunlight wood burning artist from America, and was inspired to try it himself. Over the years, he has improved his skills and is now able to create impressive portraits of celebrities.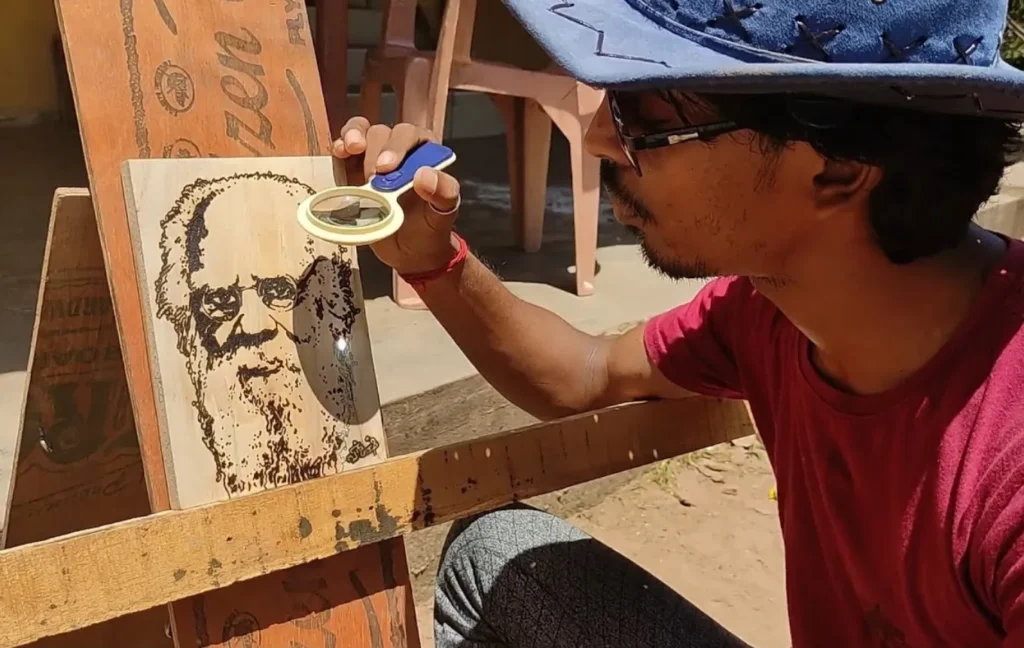 Vignesh can be found on various social media platforms including Youtube, Tiktok, Snapchat and Instagram, where he regularly receives accolades for his artwork. Vignesh's YouTube channel features time-lapse videos of his portrait-making process.
Vignesh hopes to someday exhibit his works and teach the art to those who are interested. He believes that his health condition and his journey to become an artist can inspire others who have faced challenges to rise against the odds and carve a niche for themselves.